2-IN-1 ELECTRIC SWATTER & NIGHT MOSQUITO KILLING LAMPMOSQUITOES WORLD'S DEADLIEST ANIMAL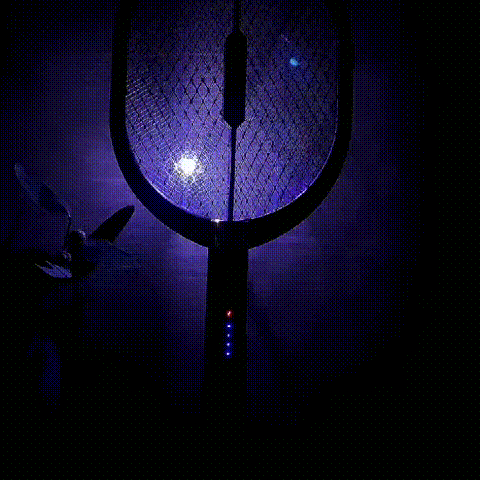 Each year, mosquitoes are the first killer animals in the world with 725,000 victims (source INSEE)
Get rid of disease-spreading mosquitoes without using harmful chemical fogging or repellent lotions with EASYPESTTM 3.0
FEATURES:
INNOVATIVE DESIGN: 3 laver rackets design to avoid the mosquito from escape. More than a bug zapper, it can be a mosquito killer lamp to lure the bugs themselves to come closer.
INSTANTLY KILLS FLIES AND MOSQUITOES: EASYPEST TM 3.0 comes with a high-voltaqe electric discharge that kills insects instantly with one easy swat
EASY TO CLEAN: EASYPEST TM 3.0 is easy to clean after you are done using it. Due to its single-layer design, the flying insects will not be caught inside so you won't have to do the dirty job of cleaning them off.
SAFE FOB EVERYONE: Unlike other mosquito repellent machines and coils.EASYPESTTM 3.0 doesn't release any chemical fumes or smoke to get rid of them. This mosquito killer machine will give out a non-glare light that would be a beacon for those pesky insects and suck them in as soon as they get closer. It is safe to be put to use in a baby as well as an adult's room.
FAST CHARGING: It can be easily powered using a USB cable plugged into an adapter, power bank, laptop, or any other device. It comes with an extremely powerful battery of 1200mAh. You just charge it once a month.
SAFE TOUCH: Includes 3 mesh layers. two exterior insulation layer and one interior ABS protective layer to prevent electric shock.
Specifications:
Product material: ABS
Rated power: 2W (maximum)
Charging time: about 2.5 hours
Charging input: 5V
Size: 522*230*54MM
Battery model: 14500 lithium battery
Package Included:1 pc*Electric mosquito swatter
NOTICE:
1. Due to the light difference, the color may be slightly different.
2. Please allow slight differences due to manual measurement.