The Best Storage Solution For Your Home!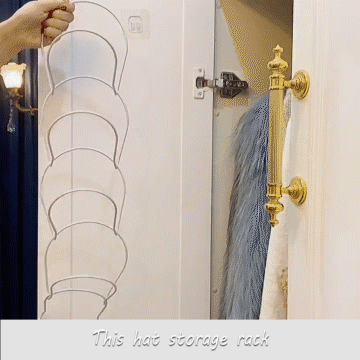 Save Space - He will help you organize your hats, scarves and other small things that you often need, and release more storage space at home.
Way To Use - Two Kinds of Hooks, a variety of Options: the fixed flat hook behind the door can be directly hung on wardrobefor and the door of the room door easy movement; The sticky hook has strong stickiness that can be glued to the smooth wall surface won't fall off easily.
Widely Use - Scarfs inside, hats outside, sturdy shelf, small spacing, suitable for all kinds of hats, small hooks can store a variety of things, can also be used to store bath towels, towel bags, etc.
High Quality- Made of ABS that is very durable even can hold heavy bags without deformation, won't rust and make stains on the cap or scarves.
There are 4 colors and 5 combinations.
Specification
Material: ABS
Manufacturer: WINIT
Size: 19.5 x 17 x 16cm; 7.7 x 6.7 x 6.3in 
Package
Dimensions: 75.5 x 47 x 86cm; 29.7 x 18.5 x 33.8in
Packing Include:
       6 x Storage Caps Rack Holder
       2 x Hooks
NOTICE:
1. Due to the light difference, the color may be slightly different.
2. Please allow slight differences due to manual.