Pasta is a simple and wonderful foodstuff and since it's available in many shapes and sizes, it makes it easier for you to choose whatever shape you want to choose depending on your pasta dish. However, if find ready-to-cook pastas too bland or unhealthy, how about you create your own at home? No worries! The Spiral Pasta Shaping Board will help you create your spiral pastas to go with your fave sauces!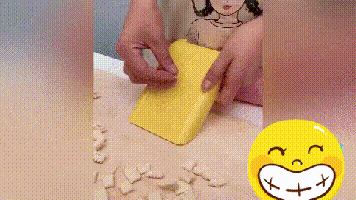 Features:
BOARD RIDGES – Comes with ridges on the forefront of the body which helps shape the pasta into its spiral and curly form as you roll it down.
ADDS TEXTURE – Not only curls the dough but these ridges also add its needed coil textures in order to hold more sauce unlike flat pastas.
WIDE USAGE – It's versatile enough to be used to create all sorts of spiral pastas like macaroni, garganelli, fusilli, rotini, gnocchi, and more.
NON-SLIP – Equipped with anti-slip rubbers on each foot so you can curl your dough steadily without the board moving, for easier and faster workflow.
PRACTICAL TOOL – Makes a great practical DIY tool for homemade pastas so you won't have to buy in your local store and with its simplicity, even beginners can easily get the hang of it.
EASY TO USE – Simply cut the dough to your desired size using the slicer, put the dough on the pasta boar, and then curl the dough downwards by hand or by using the rolling rod to make macaroni or spiral pasta.
EASY CLEANING – Though it has ridges, it's actually super easy to clean! Just rinse with water and mild detergent then you can use it again to create pastas.
With the Spiral Pasta Shaping Board, you can easily make your own fresh, tasty pasta – all from scratch!
SPECIFICATIONS
Material: ABS
Board Size: As Shown
Rolling Pin Size: 16.6cm
Package include: 1 Set * Spiral Pasta Shaping Board (with rolling pin and slicer)
NOTICE:
1. Due to the light difference, the color may be slightly different.
2. Please allow slight differences due to manual measurement.