Create A Neat Space for You Under The Shelf
Kitchen Spice Rack Self-adhesive Wall-mounted Under-Shelf Seasoning Bottle Storage Rack Spice Organizer Kitchen Storage Rack
UNDER-SHELF SPICE ORGANIZER
With cupboard space often at a premium, under-shelf spice organizer design makes use of unused space beneath the shelf. It features a clever, pull-out compartment that holds up to sixstandard spice jars (not included).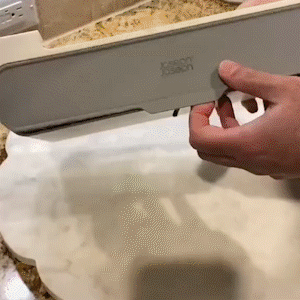 Easy To Install Using Strong 3M VHB Tape, The Unit Fits Neatly Onto Your Existing Shelf. Suitable For Kitchen Units Over 32 Cm (12⅝ Inches) Wide.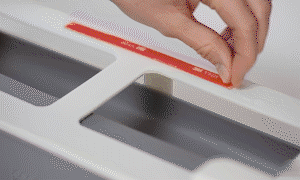 This spice rack features a clever, pull-out compartment that utilizes unused space beneath the shelf. Designed to make more of your cabinet space, by adding extra storage solutions from tiered organizers to drawers that attach to your cabinet shelves. This innovative spice rack has a clever detachable compartment that can hold up to seven standard spice jars. Maximum spice jar size: 5cm x 5cm x 12cm (2"x 2" x 4.75").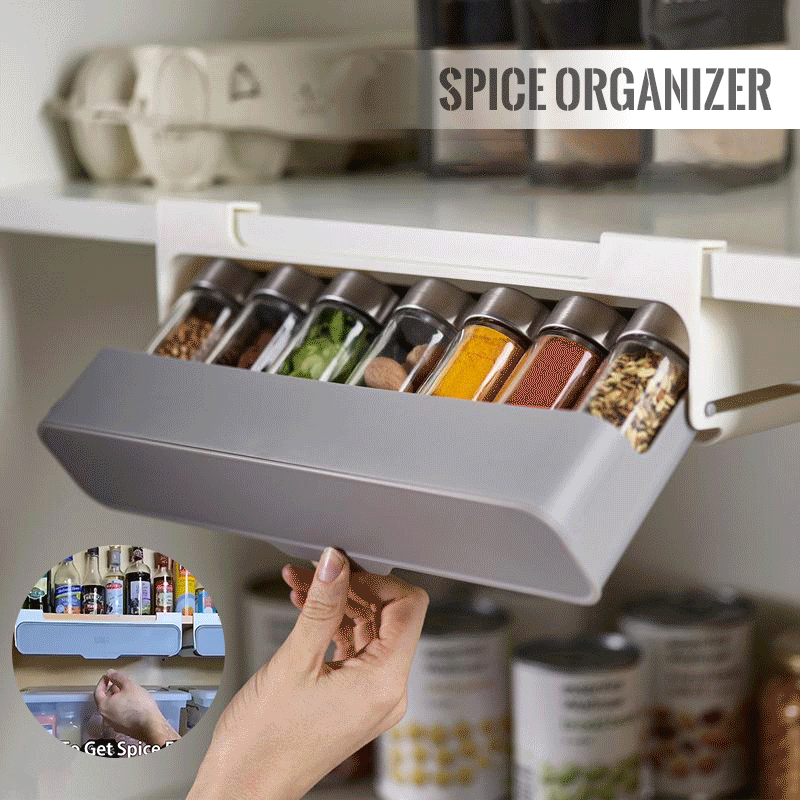 Key-Benefits:
✔️  Premium food-grade material makes this under cabinet drawer  more durable
✔️ Easy to clean without absorbing stains or smells
✔️ The unique design utilizes unused space beneath the shelf
✔️ Easily  mounts onto the existing shelf
✔️ Easy pull-out compartment with drawer stop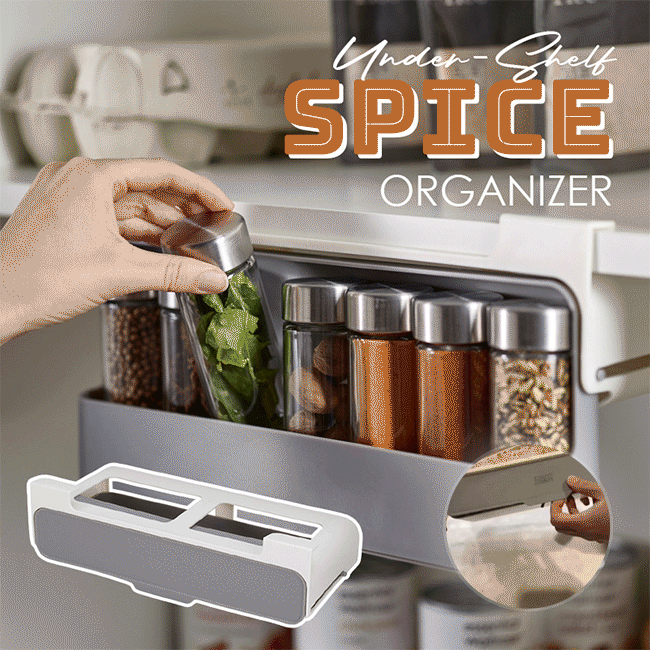 Features:
✅  Reliable Material
The seasoning bottle storage rack is made of high-quality plastic, which is lightweight, has good toughness, high strength, impact resistance, heat resistance, stress cracking resistance, etc.
✅ Unique Design
The spice drawer organizer with hanging buckle cabinet drawer design. When the storage box is used, the hanger can be erected for easy access to the seasonings, and it can also be lifted and slid into the box, which does not take up space at all.
✅ Punch-Free
The back of the spice storage rack comes with an adhesive sticker, no need to punch, no damage to the cabinet, easy installation, convenient and quick, please ensure that the surface is dust-free and water-free during installation to extend the service life.
✅ Under-Shelf Spice Organizer
A wall-mounted spice rack can greatly save space in your kitchen. It does not occupy the space of the kitchen countertop. Make your spice bottles organized and easy to access. kitchen shelf thickness ≤ 2 cm (0.78 inches).
✅ Wide Applications
The spice cabinet organizer with exquisite appearance, smooth appearance, is suitable for various home decoration styles, very suitable for kitchen, bathroom, office, toilet, storage room, powder room use.
Specification:
Classification: Non-folding Rack
Material: Silicone
Package Size: 32 *14 *7 cm
NOTICE:
1. Due to the light difference, the color may be slightly different.
2. Please allow slight differences due to manual measurement.