You deserve these perfectly full, long & curl lashes!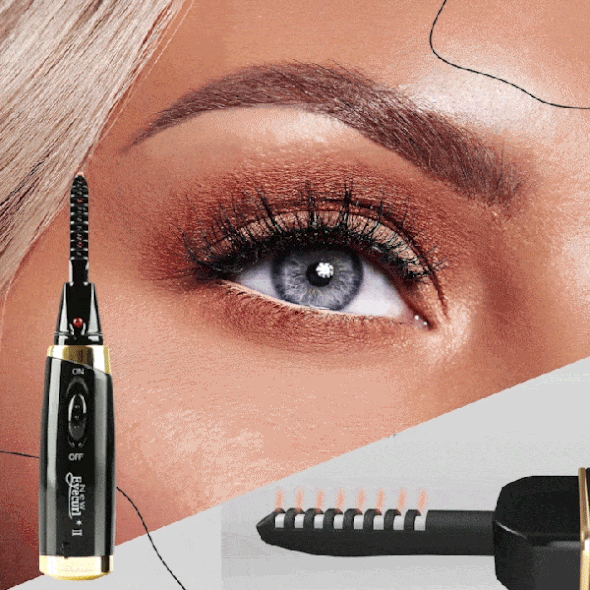 This 360° Heated Eyelashes Curler is the ideal make up tools to create natural and long-lasting curled lashes effortlessly. The heat makes the lashes to curl upwards and has a longer staying power than a regular curler, saving your from fewer coats of mascara.
With a gently heated circular comb, this curler safely lifts and lengthens lashes into voluminous and curl shape in seconds. By negative ION emission that is gentle and safe to lashes, it evenly curls and sculpts the entire lash in every angle.
This portable, easy-to-use lash curler easily provides your lashes a luscious look while smoothing mascara and separating lashes. The heat guard also prevent hurts or damages to eyes/skin/lashes during curling. No pinching or squeezing needed.
Features:
-Long Lasting Curly Lashes:
Hot brush and negative ION emission gently instantly lifts and curls your lashes with minimal effort. Result in voluminously curl lashes that lasts all day.
-Every Angle Sculpting:
Unlike other heated curlers, this particular comb is wider, so it's ideal in getting every lash at every angle.
-No Harm To Eyes & Skin:
Heat guard prevents heater from contacting skin.
-Safe & Pain-free:
No pinching or crimping needed. Less damages to lashes than traditional methods.
-Easy To Use:
Switch it on and then use, no extra technique is needed. Beginner-friendly.
-Compact & Portable:
With a thermal insulating protection slot. The compact body design makes it easy to store in your bag and carry it around for anytime and anywhere usage.
-Varied Usage:
Applicable to natural lashes, mink eyelashes and eyelash extensions.
Specification:
Material: ABS
Color: Black, White
Battery: 1 AA battery (included) / USB Charging
Weight: 25g
Package Included: 1* 360° Heated Eyelash Curler
Please Note:
1. Please allow 1-3cm error due to manual measurement.
2. Please understand that colors may exist chromatic aberration. Thanks for understanding!