The easiest solution to groom your pets and keep their hair off your clothes, furniture and floor!
This is a handheld pet hair remover vacuum that is intelligently designed with very gentle yet strong suction power for a quick and mess-free grooming experience for your pets.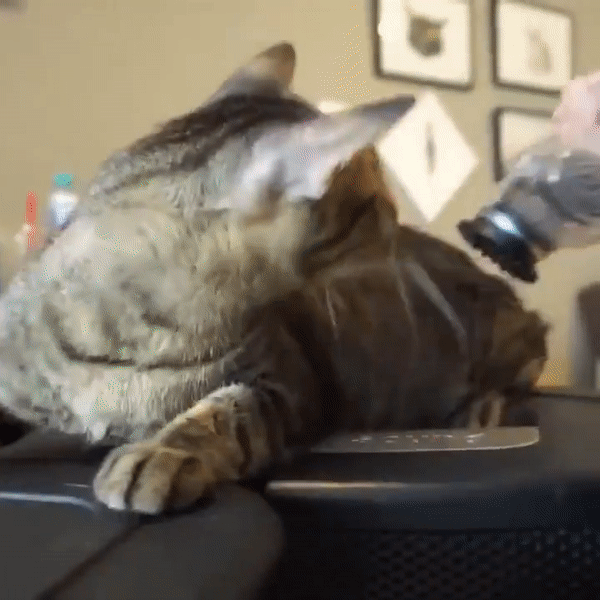 Unlike traditional pet hair remover tools that come with painful wire bristles, our Pet Vacuum Hair Remover features massage nubs and gentle suction that effortlessly removes shedding, tangles, knots, dander, and dirt, without hurting your fur baby which makes it perfect for both short and long-haired pets.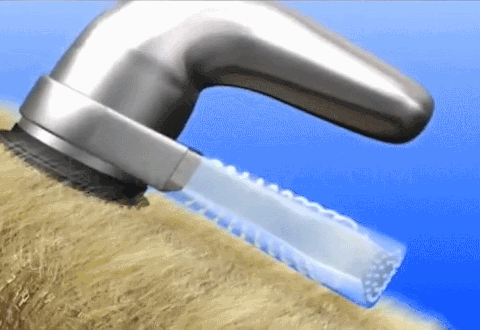 Comfortable Grooming at Home:Take the grooming matter into your hands. Using this dog and cat hair remover, you can easily remove your cat/dog's hair on your own at home while they sit comfortably with you. Its massaging vacuum with ultra-quiet motor sucks up the finest dust, dirt, pet hair and dander directly from the pet into the canister. Hello, healthy and shiny coat!
Safe and Easy to Use: Combining the functionality of a combing brush and a vacuum, this pet hair vacuum is intelligently designed keeping your pet's comfort and safety as priority. To get started, simply switch the device on and start combing it through the hair. The rotating motor will collect all the loose hair into the canister while removing any tangles or knots.
Versatile and Cost Efficient: No more spending hundreds of dollars on grooming sessions or investing in a whole range of products as this hair remover is perfect for grooming your pet and keeping the fur off your home. Featuring an innovative cordless design, this pet vacuum cleaner comes with two different head attachments to meet your everyday cleaning needs. Using the upholstery brush, you can effortlessly remove pet hair and debris from your furniture, car interiors, bed, clothing, carpets and hard to reach areas of your home in no time.
Portable and Battery Operated: Our Pet Vacuum Hair Remover is extremely lightweight and compact in size, which makes it perfect for carrying on the go. Since it is cordless and battery-powered, you won't have to run after your pets to make them sit in a specific spot near to the power outlet. Whether you are traveling or going on a trip with your pet, with this device you can groom them anytime, anywhere.
Features:
The family pet will have the following problems: the pet hair outside the body being spread in every corner of the house, to clean up brought a lot of problems, now recommend a Convenient suction hair, which can easily help you get sucked out of pet hair.

When sucked into the pet's hair, it won't hurt your adorable pet, pet comfort; more can be sucked clothes cat dog hair, hair, pet you are no longer afraid to wear dark pants; ground pet hair and dust can also be sucked out quickly and easily; safe-to-use, quiet design, won't scare your pet.

Clean the pet's hair off while the soft rubber head can also give the pet massage.
The product is made of high quality abs body + soft, non-toxic, tasteless rubber head. Strong and resistant.


Specifications:
Size: length: 19 cm width: 11 cm high: 6 cm
Power:Use three aa batteries.
Matrtial:ABS+PS+TPR  
Weight:289g        
Color:Gray
Applies to: cats, dogs, pets with hair Product


Package Included: 
1 * Pet Vacuum Cleaner (without battery)

Note:
1. Due to the light and screen difference, the item's color may be slightly different from the pictures.
2. Please allow 0.5-2 cm differences due to manual measurement.