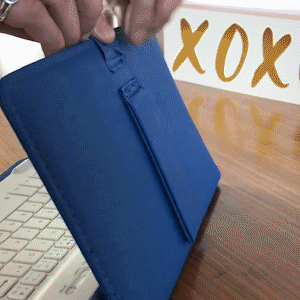 1. Keyboard material: brushed texture, high-end atmosphere, plastic material, high-quality PCBA board.
2. Keyboard design: The keyboard is intimately designed, nearly perfect craftsmanship, super good button feel, easy to operate.
3. Appearance design: The appearance design is simple and elegant, the seam is exquisite, the feel is super delicate, the internal fine craftsmanship, the various functions are convenient to operate and the machine is firmly fixed, protecting the machine from scratches and damage.
4. The keyboard uses environmentally friendly plastic keyboard that meets international safety standards, dustproof, waterproof, scratch-resistant, high-quality, high-performance, and cost-effective.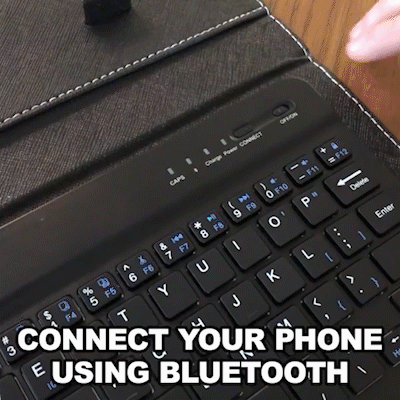 Specification:
Applicable models: mobile phone screens from 4.5 inches to 6.8 inches (or mobile phone width 6-9.5CM). All Android or Apple systems with Bluetooth function phones are applicable.
Keyboard parameters:
1. Comply with Bluetooth 3.0 + HS standards; including BQB, FCC, CE, ROHS and other related certifications;
2. The use distance can reach more than 10M.
3. Modulation method: 2.4GHZ
4. Working voltage: 3.0-5V
5. Working current <4.0MA
6. Standby current 20UA
7. Sleep current <2μA
8. Charging current ≥100mA.
9. Standby time is 100 days
10. Key strength: 80 ± 10g
11. Key life can reach 5 million times.
12. Operating temperature: -10-+ 55 ℃
13. Humidity: 20% -50%
14. Can do IOS; ANDROID; WINDOWS universal keyboard.

Instructions for use:
Step 1: Turn on the ON / OFF button
Step 2: Press the CONNECT button frequently, at this time the indicator of the Bluetooth logo will flash
Step 3: At this time, turn on the Bluetooth switch of the phone, search for Bluetooth devices, the default name of the keyboard holster is Bluetooth 3.0 Keyboard
Step 4: Click Bluetooth 3.0 Keyboard on the tablet or mobile phone, there will be a four-digit Arabic password, enter it on the keyboard, such as 1234 on the tablet, press on the keyboard, press Enter to connect

Charging matters:
1.When the battery is lower than the operating voltage, the power indicator light starts to flash, prompting the keyboard to be charged.
2.Use the Micro USB cable USB-B equipped with this machine to access the charging interface of the keyboard. USB-A interface connects to power adapter or computer USB interface
3. When charging, the power indicator (red light) will be on for a long time. When the charging is completed, the power indicator will go out. Unplug the USB charging cable.
4.Energy-saving sleep mode

Packing Includes:
1*Bluetooth 3.0 Keyboard
1*PU leather case
1*Data cable

NOTICE:
1. Due to the light difference, the color may be slightly different.
2. Please allow slight differences due to manual measurement.