😍 Keeps your feet clean and healthy 😍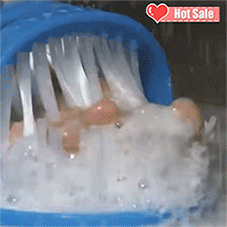 Cleaning your feet doesn't have to be such a stretch.
Foot Scrubber with Pumice Stonesticks
firmly to the bottom of your shower or bath to make washing your feet easier than ever before.
This cleansing shoe uses over a thousand soft bristles to give your feet an exfoliating massage from top to bottom. The bristles are great at getting in-between your toes and there's a pumice stone in the heel, so you can
smooth away dry and damaged skin
. It's designed for
feet of almost all shapes and sizes and attaches to most surfaces
. Refreshing and revitalizing your feet has never been so easy and felt so good!
To use Sole Spa, you simply
place it on the floor of your tub or shower and keep it in place with six suction cups attached to the bottom
. With the water running, you then insert one foot into the unit and pour any soap onto the unit. As it suds up, you can then rub your foot between the upper and lower bristles, or move your heel along the pumice stone on the back of the device.
Features:
Easily cleans your feet from top to bottom 
No more bending or stretching to clean your feet 
Made with
over a thousand soft cleaning bristle 
Massage
exfoliates & eliminates dirt 
Built-in pumice stone smooth rough, cracked heels 
Fits all feet no matter what shape or size 
Suction cup base sticks to
almost any surface
Perfect for
seniors and those with limited movement
Sticks firmly to almost any bath or shower
😍Never bend! Great for feet of all ages and one size fits all!
These slippers are used to
clean and massage your feet from heel to toe
, giving you clean and smooth feet.
Turn your shower into a foot spa instantly with Shower Slippers, while thousands of bristles, massage and cleans your feet from toes to soles. Just add soap and slide your feet inside and keep moving it to and fro for a thorough cleaning. It also helps repair the cracks in your heels and removes dead skin.
The special
non-slip suction cups on the bottom keep the foot cleaning scrubber safe and secure while in use
. You'll get squeaky clean, tingling feet without having to lift or bend in pretzel-like positions. Simply secure the device to your shower, tub or wall surface after use for storage.
Specification:
Material: PP+Pumice Stone
Color: Blue
Size: 280x118x140mm
Weight: 262g
Great for feet of all ages and one size fits all, perfect for family use!
Package include: 1 * Foot Scrubber with Pumice Stone
NOTICE:
1. Due to the light difference, the color may be slightly different.
2. Please allow slight differences due to manual measurement.