Never Compromise Your Stopper For A Strainer Again, Never Call Plumber Again, Never Use Harmful Chemicals Again. 100% BPA Free & Flexible High Grade Silicone.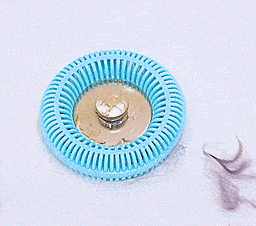 Features:
The greatest thing about the Drain Protector is that you can instantly install it, and instantly remove it to clean it off. There's no long installation process. You simply wrap it around your pop-up tub drain and it takes about 2 seconds to go from hairs falling down your drain, to hairs be instantly caught.
A unique slot and ring design helps catch every hair in your bathtub. It's perfect for large families that have long thick hair that you usually needs to fish out once a week, or for families with pets that take a lot of baths. It works great for any kind of hair, be it from a pet, a human, or even probably the body hair from a Big Foot.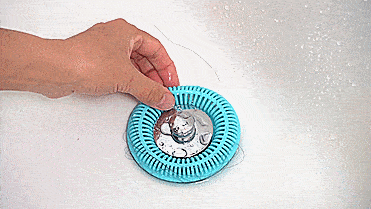 The Drain Protector means no more fishing hooks down your drain, no more using a plunger in your bathtub, no more harsh chemicals to clear a clog, and no more wet disgusting hair in your bare hands once a week after your tub backs up! Plus, there's also no worry about dropping a ring, earring, or other small item down your drain, since the Drain Protector will catch it!
Benefits:
1、No More Blockage: It is not designed to stop drainage, but to prevent items from falling into the waste disposal or clogging in the drain, and no longer have to worry about hair blockage.
2、Suitable for Most Drains: Suitable for most sinks, showers or tubs! It can be easily installed directly without tools, without affecting the drainage speed.
3、Practical for Use: When contact lenses and other small objects fall into the sewer, this bathtub drain filter protector will help keep the drain free of flow and eliminate foreign matter blockage.
4、Convenient to Use: When you need to empty the filter, simply remove it and rinse directly with water. It is a flexible anti-clogging ring that is perfect for bathtubs. It also applies to all sinks, including kitchen sinks, bathrooms,laundry and workshop common sinks, and even garbage disposal.
5、Simple to Use: Set it directly and use it right away! Solve the blockage! Help you intercept the jewelry and drop the sewer!
Specifications:
Material: High Grade Silicone
Style/Color: Ring/Rose,Blue,Green
Dimension: 14*17cm
Weight: 30g
Package Includes:
1 x 1*Hair Filter
NOTICE:
1. Due to the light difference, the color may be slightly different.
2. Please allow slight differences due to manual measurement.