Reduce the cost of your water bill and improve the way you wash in your home! It is possible with this incredible product!
The tap head is equipped with  2 innovations  that allow it to be the most effective product when cleaning dishes and save up to 20% of water.
With  3 different pressure modes , you can choose the mode that best suits your needs and with its  360 ° rotating head you  can direct the jet in any direction.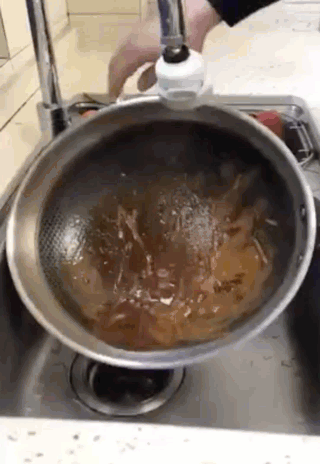 Why buy?
 Water saving up to 20%: you can adjust 3 different jet intensities and choose the most suitable one. This system optimizes the amount of water needed and causes a reduction in used water, and in total cost.  
 Increase the  pressure  of your tap:  in 1 click you can go from a diffuser mode to a jet mode, with more pressure to be able to remove all the remains of food on your dishes, without having to rub . It also has a mixed mode.
 Cleaning optimization: The tap head can rotate 360 ​​° with an inclination of up to 45 ° . In other words: cover all angles. You can clean any corner of the laundry room, and direct the jet optimally to clean your dishes and utensils without wasting a drop of water.
 Easy to install: Allows easy mounting by bolting. No splashing water. 
 Very durable: Thanks to its premium materials (ABS and stainless steel).

How to install?
It is very easy to install. The product comes with a white rubber fitting that snaps onto your faucet to ensure no leaks Screws on like any faucet cap.

Compatible Faucets
The faucet head is compatible with most kitchen faucets . 
The tap must be round, it must have to screw the product (it does not matter if the thread is internal or external) and the diameter of the thread must measure 2 cm.
Features:
[Water-saving faucet] Pressure water saving device, stainless steel effluent ABS material, excellent water quality.
[Non-slip threaded mouth] Threaded mouth design, non-slip, not afraid of falling off, easy to install.
[3 modes] Three water outlet modes, one-button switching: pulse mode, pulse shower mode, shower mode.
[Rotary tap] Rotatable positioning for easy multi-angle cleaning
[One step installation] 24 caliber internal teeth, external teeth 22 round head can be directly installed.
Package: 
1*Kitchen Faucet Sprayer 
NOTICE:
1. Due to the light difference, the color may be slightly different.
2. Please allow slight differences due to manual measurement.