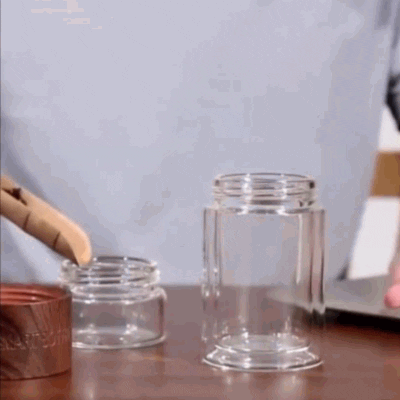 Relax & appreciate your tea moments! No need to empty anything or remove the strainer that's been steeping too long. You can now prepare your ideal tea with this infuser bottle. Plus, you can now bring it anywhere you go.
Features:
Avoid those soggy tea bags! This smart design & multi-purpose bottle allows you to make a perfect drink, personalized for your taste. The tea leaves will only be in contact with water once you infuse it. This allows you to use more than once your nice loose leaves, natural herbs, or tea bag.
Unique & Multifunction Design
Your creativity is the limit! This can be used to make different types of drinks. You can put loose leaves or your favorite tea bag. If you prefer coffee, you can either do a cold brew, a hot coffee, or even a cappuccino. Put your favorite mixed drink on the cover with Instantea™.
Insulated High-quality Glass
This is made with Borosilicate glass. This high-quality material is used on double-sided walls to provide high resistance to extreme temperatures. You can put either boiling or iced liquids that your tumbler will not crack or damage. No need to wait for your coffee or tea to cool down to be able to hold the bottle.
Leak-proof Cover
The cover has a silicone seal that prevents the liquid from leaking. This infuser bottle is perfect to carry to work, to school, or even when your traveling. Let Hydro this hold your drink whenever you're up for your daily activities.
Portable & Easy to Use
Prepare your drink in a minute! Add the leaves/ herbal, put the bottle upside down then just turn back the bottle to the right position. The herbs will have contact with the water & start the brewing process. Definitely, the easiest way to make your fav drink!
Stay Hydrated & Bring Your Tea Anywhere!
Relax & enjoy your drink ! Avail now & create your hassle-free beverages by infusing flavors in your water! Hurry, Don't miss this out!
Specifications:
Material: Borosilicate Glass
Color: Black, Wood color, Pink
Capacity: 200ML
Operating Temperature: -20°C (-4°F) to 100°C (212°F)
Capacity: 200ml (6.7oz) - main part. 100ml (3.4oz) - lid
Size: 17cm (6.7") height x 7cm (2.7") width
Package include:1 pc*Water Bottle
NOTICE:
1. Due to the light difference, the color may be slightly different.
2. Please allow slight differences due to manual.

How to use it:
Choose what drink you would like to brew. Then put the ingredients (loose leaves, tea bag, herbs, fruits, coffee…) in the lid and add the filter part to close it.
In the glass part, add the boiling or cold water, depending on your drink.
Close the bottle and leave it upside down to start the infusion process.
When your drink is ready, just turn back the bottle into the right position.
Enjoy your drink!