Use your paintbrushes, rollers & paint- the newest high-tech spray guide tool that transforms any house or project within a day. It's fast and easy to use. It sprays & trims the edges. It even has a universal fit for all sprayers!
LIMITLESS POSSIBILITIES
It is versatile & convenient to use. It is widely utilized in house renovation or even DIY projects. Designed to save time and avoid many problems like paint drips, sags & trapped air bubbles. Guaranteed that it provides quality finish works!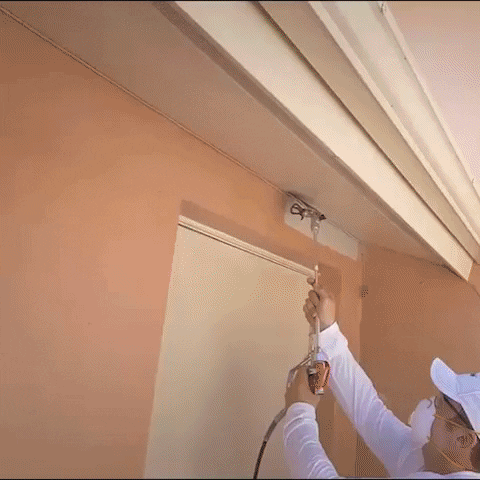 HASSLE-FREE SPRAYING
Exhausted from going up & down on a ladder? And using paint brushes, rollers, rags, trays, etc to paint? It surely accomplishes more works alone! This spray guide tool does not need spray shields & tapes. It cuts your time from masking over & over. And covers 25ft in less than half a minute.
EASY TO INSTALL
Apart from any ordinary spray tools, it is made up of premium materials. The setup is easy and takes less than 2 minutes. The spray head and baffle are adjustable. It comes with spray as well. And adjusts to fit all spray guns. Moreover, it provides an airless 517 sprayer nozzle for your handy use.
PROVIDES QUALITY FINISHES
Avoid mistakes while painting & make sure to use it. The ease of repairing those glitches & scratches makes it easier for you to do. Because the tool produces clean & sharp paint with a simple spray. It glides effortlessly on every surface. It eliminates re-coating, masking & tapping. And while spraying, it gives you an even & consistent color.
End that inner chaos in painting your house walls/ doors/ furniture/ etc. Using it you get more things done using this airless spray guide tool. So, make sure to buy yours now & see the magic it gives to you!
FEATURES:
Universal fit 

Designed with airless 517 sprayer nozzle

Easy to set-up

Glides perfectly on the surface

Light & simple to use
SPECIFICATIONS:
Materials: Aluminum Alloy

Colors: Multicolor (Silver/ Red/ Blue/ Black)

Spray Angle: 50°

Spray Width: 250 - 300 mm

Spray Guide Tool Size: 260 * 130 * 45mm / 10.24 * 5.12 * 1.77in

Spray Nozzle Size: 55 * 50 * 18mm / 2.16 * 1.97 * 0.71in