Transformation in 3 seconds Simple napkins turn into romantic roses
Impress your family and guests with a unique table.
You invite people to dinner.  Prepare the food and set the table elegantly.  How difficult can folding a napkin really be?  After trying crumpled paper and napkins, you sigh deeply and simply resort to putting a roll of paper towels on the table in frustration.  Or you can organize a decorative table in an instant with this napkin holder!
Features:
-Make your family dinner even more perfect with this Floral Napkin Holder. Turn any paper napkin into a rose, rosebud, tulip or elegant calla lily.  Napkin folding skill is not required;  just take a napkin, fold it as directed, insert it into the holder, and give the stem a quick twist.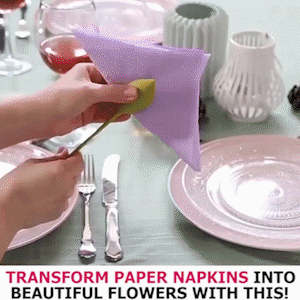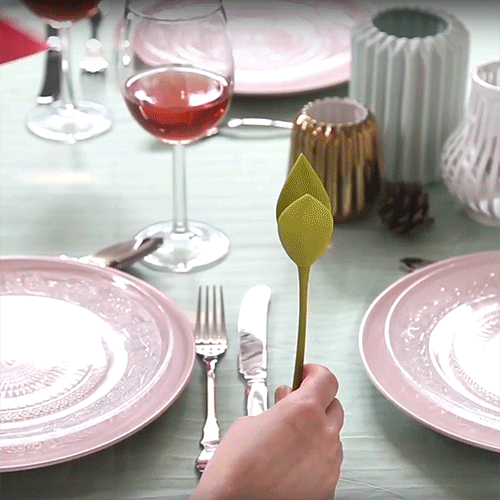 -Create the different types of flowers you want, from tulips to roses to calla lilies and more.
-Place it on a plate, in a champagne glass, or in a vase for added refinement.
-It works as a napkin holder and table decoration at the same time!
-Replace common napkin rings with a fresh, innovative design
-Perfect for all occasions: parties, meetings, dinners and events.
-EASY 3 STEP METHOD: Fold, insert and twist into a flower!Create beautiful blooming bent flowers on your table.
Specification:
Material: PP
Size: 20*6CM
Color: Green
How to use
1.Fold the paper towel into a triangle.
2.Insert the folded napkin into the center button.
3.Then gently twist to form a flower.
Package Included: 4pcs x Napkin Holders
Please Note:
1. Please allow 1-3cm error due to manual measurement.
2. Please understand that colors may exist chromatic aberration. Thanks for understanding!