As a woman, buying the perfect bra is almost impossible! Many are unpleasant, uncomfortable and never seem to fit properly. This bra does not hurt or make marks and will make you stand up, with the volume, firmness and support that your body needs. Feel good and confident!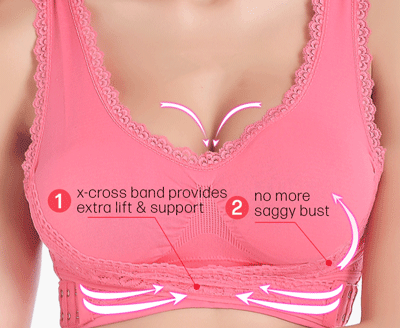 Introducing our Front Cross Wireless Lace Lift Bra, Insufficient Chest Support may contribute to pain and discomfort, stretched skin and ligaments, which may lead to droopy, saggy breasts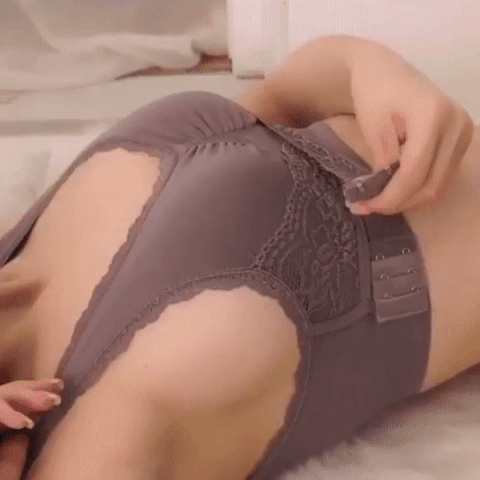 This Front Cross Wireless Lift Comfort bra instantly lifts and provides ultimate breast support against sagging while keeping an upright posture & seamless look with anything you put on.
📦 WITH This Bra, You Can SAY NO TO THESE:
NO Underwires!
NO Back Pain / Shoulder Pain
NO Saggy Breast
NO Back Fat, Bulges, Spillages, Bra Lines!
NO Chafing
NO Pain From Straps
NO Drooping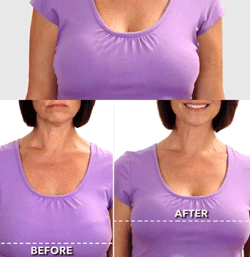 Find more Comfort Bra More Benefits here:
Instantly lifts & supports breasts
Adjustable crisscross sexy lace strap for stabilizing & push up effect
Maintains a straight posture against back pain/neck pain
Prevents sagging and wrinkled skin
Smooths out bra bulges & bra lines
Seamless, wireless, ultra-comfortable wearing
Air-permeable & moisture-wicking fabric 
Reduces sweating & boob rashes
Features
Lightweight and breathable
Bands for the PUSH-UP effect
Size Chart:
Select your current regular size in the chart below. Once the product arrives you may see 1 size above your current size due to Factory Recommendation.
S: Bust: 60-70cm (It is recommended to wear 70/32A 70/32B 70/32C 70/32D 75/34A 75/34B for the bra at ordinary times)
M: Bust: 70-80cm (It is recommended to wear 75/34B 75/34C 75/34D 75/34E 80/36A 80/36B for the bra at ordinary times)
L: Bust: 80-90cm (It is recommended to wear a bra 80/36B 80/36C 80/36D 80/36E 85/38A 85/38B)
XL: Bust: 90-100cm (It is recommended to wear a bra 85/38B 85/38C 85/38E 85/38F 90/40A 90/40B)
2XL: Bust: 100-110cm (It is recommended to wear a bra 90/40C 90/40D 90/40E 90/40F 95/42A 95/42B 95/42C 95/42D)
3XL: Bust: 110-120cm(It is recommended to wear a bra 95/42D 95/42E 95/42F 95/42G 95/44A 95/44B 95/44C)
Specification:
Material: Spandex+Nylon
Color: White, Purple, Blue, Black, Red, Khaki
Package include: 1 * Bra
NOTICE:
1. Due to the light difference, the color may be slightly different.
2. Please allow slight differences due to manual measurement.