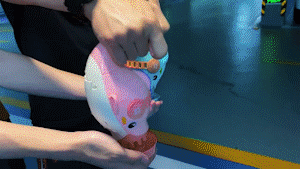 description:
1. Cool bubble machine: Gatling bubble machine, the super new style has 10 holes, more bubbles look cool, more colorful, and more fun to play. Adopting Gatling's appearance structure, fresh shape and different styles, it will become a unique bubble player, attracting the surrounding field of vision.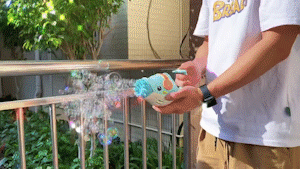 2. Child-friendly ABS material: The bubble machine is made of non-toxic ABS material, which is safe for children and will not leak or splash. Very safe for children and pets. Children can chase them and enjoy your bubbles.

3. Safe cooling fan mode: The fan is made of a soft sponge rotor propeller, which is a safe foam toy suitable for your children and pets. When a child feels tired after chasing, he will feel very hot. You can use the bubble machine as a small fan to bring cool and comfortable wind.

4. Easy to use: Our colorful bubble machine uses 3 AA batteries (batteries not included), easy to connect and use. Pour bubble water on the extra board, immerse the bubble machine in the bubble water, press the switch to enjoy the bubble time. (Please note that due to environmental issues, we do not provide bubble liquid, you and your child need DIY to make the game more interesting).

5. The perfect gift: The fun and unique Gatling machine design can develop children's imagination and creativity. Your kids can take this bubble machine with them, which is a fun interactive toy that can keep them having fun for a long time.

feature:
The unique design of the Gatling gun.
Ergonomic design and non-slip design, easy to hold.
With a 10-hole design, many colorful bubbles are blown out every minute. (The number of bubbles is twice that of the previous eight-hole bubble machine)
How to get the bubble solution:
1. Add washing powder or liquid detergent to the bottle, about 1/5 of the bottle (washing powder can be added in a small amount);
2. Pour clean tap water into the bottle and stir evenly;
3. Pour bubble water into the tray; stick the bubble mouth with bubble liquid;
4. Press the switch to enjoy colorful bubble time.
specification:
Material: ABS material
Color: red, blue
Size: 18.9*11.4*12.5
Packing list:1PC*bubble machine(Without bubble water, 1.5V AA batteries not included)


NOTICE:
1. Due to the light difference, the color may be slightly different.
2. Please allow slight differences due to manual measurement.