Features:
MOST ORIGINAL LAMP ON THE MARKET: Yes, you read that correctly, this is not only a game but also serves as a wonderful lamp for any room of the house. Indeed, equipped with 7 different neon colors, it provides a magical appearance that fascinates children and brings back memories to adults. LED lights turn on when the pieces are stacked together.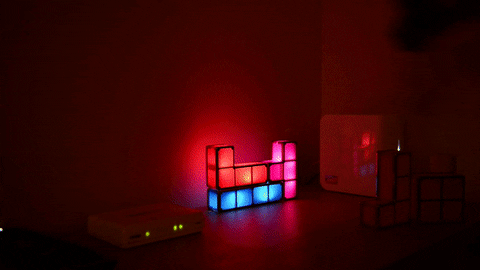 LIMITLESS COMBINATIONS FOR ENDLESS ADMIRATION: This Lamp comes with the seven tetrominoes featured in Tetris. You can therefore create as many configurations as you want using the seven pieces included in the package.
THE BEST GIFT YOU CAN GIVE FOR CHRISTMAS 2020 is by far this. The 80s were a magical time of evolution for the video games, and it is now possible to make a loved one relive it by giving him this lamp as a gift. You can be sure this person will never have received such an original gift!
Specification:
Material: ABS
Size: Each Small Square: 4*4*4cm
Plug Type: EU, US, UK
Color: Neon Colors
Package Included: 1 Box x Tetromino Light(including seven tetrominoes)
Please Note:
1. Please allow 1-3cm error due to manual measurement.
2. Please understand that colors may exist chromatic aberration.