The mat won't leave marks on your garage floor. Though not having wheels, forward and backward motion is easy with the mat.
The mat does have a low-profile with zero ground clearance, which is good for those with a lowered vehicle or who are limited on how high they can lift the car for repairs.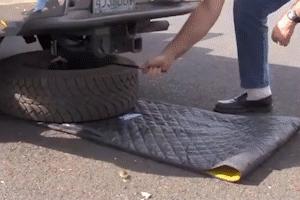 In addition to creeping beneath the car, the mat is helpful to have around for sliding large objects.
The multi-layer construction is high-strength and puncture-resistant, making sure it still works on rough or uneven surfaces, for example in your driveway, in the gravel, or even on the side of the road. Oil and water-resistant.
This wheel-less mat is easy to store and maintenance-free. It is excellent for everyday mechanics, daily drivers, and Car traveler. It can be stored in a vehicle's trunk ready for roadside use on rough and uneven surfaces.
Features:
1. High quality carrying bag designed for CAR CRAWLER.
2. Long-term use, water resistant and tear resistant. No need worry about being damaged like other carrying bags, sturdy and safe.
3. Easy to carry – easily stored
4. Zero ground clearance
5. Lightweight 
6. Oil and water-resistant
7. Puncture resistant
8. Works on uneven surfaces – grass, gravel & dirt
9. Will not damage or scratch expensive flooring
10. Move heavy objects with ease
11. Comfortable kneeling pad
Specification:
Material: PU+Polyster+Sponge
Color: Black
Size: 70*150cm
Weight: 1kg
Package Included: 1 * Automotive Car Crawling Mat
Please Note:
1. Please allow 1-3cm error due to manual measurement.
2. Please understand that colors may exist chromatic aberration. Thanks for understanding!