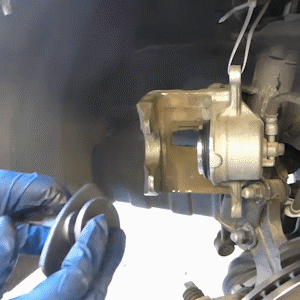 Description:
For use on most vehicles. This tool is suitable for professional and DIY use.
Especially designed for
brake calipers with a right handed threaded piston
.
Allows for
the brakes to be serviced and brake pads to be refitted
.
Enables the brake piston
to be re-wound into the bore on disc brake calipers
.
Brake Caliper Piston Wind Back Tool Right Handed Kit
MAIN FEATURES:
BRAKE CALIPER PISTON TOOL: Use the ABN Ratcheting Brake Caliper Compressor Tool to compress pistons quickly and easily into the calipers; Disc brake pad spreader tool creates a larger space between the caliper cavity to make room for newer and thicker brake pads; Quad and dual-piston brake caliper tool comes pre-lubricated to protect against oxidation; It is suggested to lubricate between uses.
FITS YOUR VEHICLE: Use as a single-piston caliper tool, a dual-piston caliper tool, a quad piston caliper tool, and a rear brake caliper tool; This versatile caliper piston compressor tool is ideal for cars, trucks, and some commercial vehicles; Works on both fixed and floating calipers.
RATCHETING ACTION:
Brake piston compression tool provides a 360-degree swing that allows you to keep the compression plates in place while you lever the handle back and forth to spread or retract the plates; Centrally located ratchet screw creates even force when compressing pistons to ensure proper alignment and to prevent damage to your brake components; Reverse tool movement to retract compression plates by flipping the switch on the handle.
EASILY RESET YOUR BRAKE CALIPERS AND PISTONS:
Drain fluid from calipers using approved brake pressure relief procedure then remove the caliper and worn brake pads from your rotor assembly; Retract brake caliper press plates to fit inside the caliper cavity; Begin ratcheting slowly and steadily until the pistons have retracted completely; Retract compression plates to remove the disc brake piston tool from the caliper cavity.
Specifications:
Name: Car Auto Wheel Cylinder Disc Brake Pad Caliper Separator Piston Rewind Hand Tool
Material: Steel
Scope of Application: Mechanical Repair, Auto Repair, Brake Repair
Product Size: Same-as-Photo
Package include :
1 Set*Brake Piston Rewind Tools
Please Note:
1. Please allow 1-3cm error due to manual measurement.
2. Please understand that colors may exist chromatic aberration. Thanks for understanding!