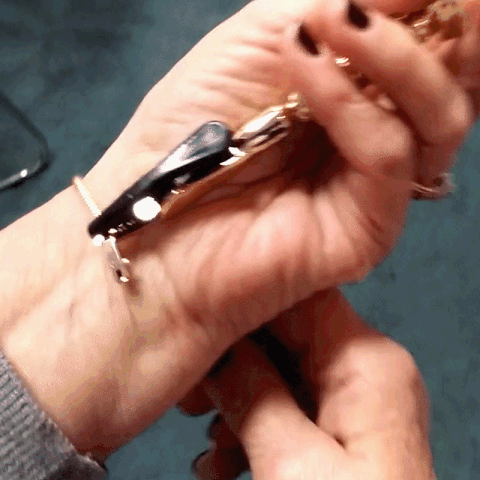 Features:
-Put Your Bracelet On By Yourself
Bracelets can be difficult to fasten if you don't have help at hand, now easily fasten tricky jewelry clasps with this Bracelet Helper, it holds one end of a bracelet, necklace, or watch so you can secure the clasp without struggling.
-
Fastening and Unfastening Instantly
Our Bracelet Fastener Helper works in reverse for easy unfastening of bracelets too. It's like having an extra helping hand. A simple and quick way to save time and make your life easier.
-Give Yourself An Extra Hand
Lends a helping hand who has difficulty putting on a bracelet with a clasp. The bracelet helper's clip secures one end of your bracelet allowing your free hand to wrap it around your wrist and instantly secure the clasp.
-A Great Gift Idea
A must for anyone who owns a bracelet, it works like an extra hand, helpful for arthritis sufferers. Great gift idea too, it aids in fastening and unfastening almost any clasp instantly on a bracelet or necklace, too.
Specifications:
Material: Plastic
Size: 175mm
Color: Golden, Silvery, Rose
Weight: 15g
Package include : 1  * Bracelet Fastener Helper 
Please Note:
1. Please allow 1-3cm error due to manual measurement.
2. Please understand that colors may exist chromatic aberration. Thanks for understanding!