If you like to take your phone with you in the shower, get this one!

After a long day, enjoy watching Netflix, listening to music, sending emails, and more while in the shower!
Main Features
✅Free Your Hands
The wall-mounted shower phone box holder is a

good companion for you to enjoy life, whether it is taking a bath or cooking,

it can free your hands while protecting your device.
✅Waterproof And Anti-Fog
Made of high-quality ABS material,

Inline silicone seal, it can reach 100% splash-proof.

Enjoy watching movies, Tiktok, or others while bathing.
✅180° Rotating Design
It supports

switching between horizontal and vertical screens with 180° rotation

and can be adjusted to a suitable angle to provide you with the best viewing angle.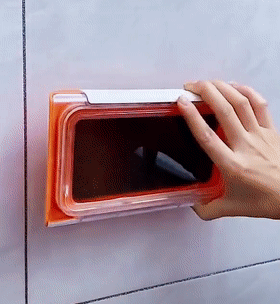 ✅PET High-definition Touch Screen
The screen is made of

high-quality PET anti-fog film, which is sensitive to touch and has a light transmittance of 99%.

Even if there is fog in the shower, it will not affect the picture quality, and the phone can be accurately controlled with wet hands.
✅Use In Multiple Scenarios
360° full body solid protection, and it is convenient to open the cover with one hand. It is a must-have item for

bathing in the bathroom, cooking in the kitchen, fitness, makeup, etc.
✅Wide Compatibility
Compatible with

mobile phone models under 6.8 inches and tablets within 11 inches, suitable for almost all mobile phone and tablet models on the market.
Using Methods
Step 1: Wipe the wall and stick it to the wall.

Step 2: After installation, please leave it for 24 hours before use.
Specifications: